Glad Creations Email Update 01/01/2018

Glad Creations Inc., News & Notes
This newsletter is mailed every other Monday.
January 1, 2018


Greetings!

Happy New Year! Come join us - our annual New Year's sale starts today!

While you're here, take in our staff quilt show, Medallion Quilts. It will be on Display January 1–12. Our group used a variety of approaches to the theme. You'll be surprised how many different looks we came up with. Come in and check it out!


This year's New Year's special: Enter our drawing to win one of four Glad Creations Quilts! Add your name to the drawing and one of these quilts could be yours! Enter the drawing each time you visit January 1–12, 2018.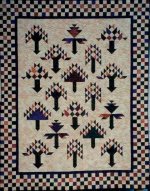 Looking for a new project for the new year? Our class schedule is posted on the website. We have 2 great classes coming up for those of you who are new to quilting.

• Cheri's Beginning Rotary Star Sampler class has space available. Cheri covers some great techniques to get you started with machine piecing. If you've already done some machine piecing, this class is a great chance to refine your piecing skills and learn some new tricks.

• Pat Cox's Beginning Quiltmaking class which has usually been offered on Tuesday evenings is on the schedule for Saturday afternoons this session. Learn traditional quilting techniques from a master! You'll learn piecing and quilting by hand in this class.
If you can't make it into the shop and there is something you are interested in, please call us at (612) 724-1079 and we'll be happy to answer any questions about products and take your order over the phone. Or, visit our website at www.gladcreationsquilts.com.

Best wishes to all for a wonderful New Year.

Nancy, Susan & Emily

Store hours are 9:30 – 5:00 Monday, 9:30 – 8:30 Tuesday and 9:30 – 5:00 Wednesday through Saturday. We are closed on Sundays. We're open every Tuesday evening until 8:30.
Glad Creations, Inc. Quilt Block
3400 Bloomington Ave. S.
Minneapolis, MN 55407
(612) 724-1079

Biweekly Email Update

Visit our website: www.gladcreationsquilts.com

email: nancy@gladcreationsquilts.com

All content copyright ©2018, Glad Creations, Inc.